Onze helden van het WK in Zolder! 💪
Sem, Luca, Charlotte, Aniek en Dino heel veel succes en plezier!
---
Trainingen tijdens de vakantie
Van half 7 tot 8 alle groepen op de dinsdag en donderdag.
Wisselende trainers.
Wij wensen iedereen een fijne zomervakantie.
Groeten,
Jans, Dick, Raymond, Jose en Gido.
---
BMX-ers FCC de Fivelcrossers klaar voor het WK, maar ook voor het NK en EK!!
WK
In de eerste week van de zomervakantie reizen we af naar het mooie circuit in Zolder België met maar liefst vijf Fivelcrossers! Waar de kleine club uit Appingedam groot in kan zijn! Das zeker waar want we zijn er trost op dat we met twee dames en drie heren verschijnen tijdens de wereld kampioenschappen
BMX. Er zal door de dames Charlotte Doddema uit Noordbroek en Aniek Bouwman uit Hellum en de heren Sem van Dijken uit Appingedam en Luca en Dino de Rooy uit Zeerijp, die doorgaans trainen bij FCC de Fivelcrossers in Appingedam, gestreden worden om de felbegeerde podiumplaatsen die in Zolder te verdienen zijn. Het wordt een ware week vol spektakel, plezier en (in)spanning!
NK en EK
Maar we vergeten natuurlijk niet die andere o zo belangrijke wedstrijden.
Want er staat nog meer op de kalender voor de rijders. De dames Charlotte en Aniek en de heren Sem van Dijken en de mannen (Luca, Milan en Dino) De Rooy staan alle 6 (!) volgend weekend aan de start in
Erp. Hier worden Nederlands Kampioenschappen van de KNWU (Koninklijke Nederlandse Wierer Unie) gereden. Voordat je hieraan mee mag doen, moet je je kwalificeren en dat hebben ze gedaan hoor deze 6 toppers!! Volgende week zondag op 6 juli staan ze dan ook aan het starthek tussen alle andere stoere
BMX-ers.
En dan moeten we natuurlijk niet vergeten dat onze eigen Charlotte Doddema ook gaat meedingen in de strijd tijdens de Europese Kampioenschappen in Letland. Zo ontzettend goed. Alles is geregeld, vervoer, onderdak en de inschrijving voltooid. Charlotte zal met haar familie in het tweede weekend van juli de strijd aangaan met vele andere meiden in haar leeftijdsklasse girls 8 years. En dat gaan de thuisblijvers absoluut op de voet volgen via de social media.
Als club zijn wij enorm trots op de prestaties van de leden en hopen we dat ze het ver gaan schoppen bij die o zo belangrijke wedstrijden waar ze stuk voor stuk het hele jaar hard voor trainen en strijden op de verschillende bmx banen hier in Nederland, België en Duitsland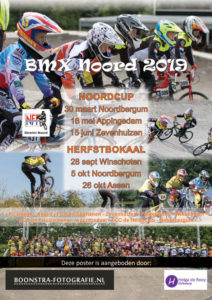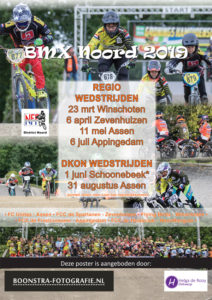 ---
Speciaal voor de nieuwelingen onder ons een korte beknopte uitleg over het verloop van een BMX wedstrijd. Tevens een uitleg over de NFF regiowedstrijd, Noordcup en Herfstbokalen. In de pdf's kun je lezen hoe die zoal in hun werk gaan.
Ik kan dit nog toelichten als dat gewenst is. Tijdens wedstrijden is er altijd hulp in de buurt als het even niet duidelijk is.
vriendelijke groet,
Stef Akkerman
Of onze trainingen doorgaan, check het stoplicht of volg ons op Facebook
Vragen, stel ze aan ons!