Op onze Mededelingen – Corona virus pagina staat alle relevante informatie betreft het corona virus en de wedstrijden en de trainingen.
Beste rijders en ouders,
Zoals verwacht zijn er nieuwe ontwikkelingen omtrent het Coronavirus in Nederland.
Per direct zijn alle sportaccommodaties op verzoek van het RIVM gesloten. Dat geldt dus ook voor de accommodatie van de Fivelcrossers.
Trainingen zullen niet plaats vinden.
Noordcup 1 in Noordbergum is definitief gecanceld.
Ten slotte wil ik nogmaals benadrukken dat alle updates en wijzigingen enkel vanuit het secretariaat worden medegedeeld. Facebook en Instagram wordt ook beheerd door de bestuursleden.
Op zie manier houden we de berichtgeving zuiver en betrouwbaar.
Namens het bestuur,
Met vriendelijke groet,
Stef Akkerman
secretaris Fcc de Fivelcrossers
---
FCC  de Fivelcrossers
Sportploeg van het jaar 2019!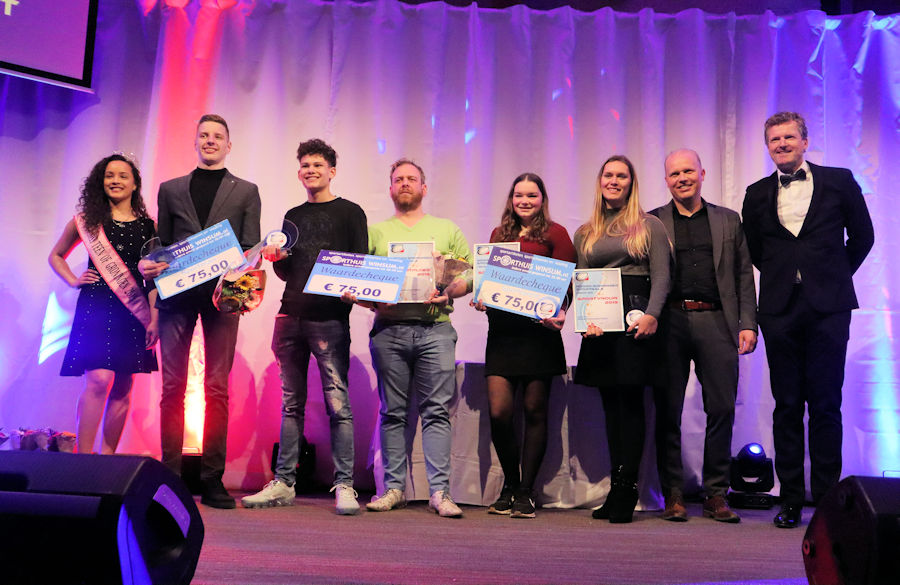 bron: Eemsmondsport
Bij de verkiezing van de Sportploeg van het Jaar kreeg Karateclub Kyocho uit Delfzijl de meeste punten van de vakjury, maar ook hier gaven de stemmen van het publiek de doorslag. FCC De Fivelcrossers uit Appingedam ontving de trofee uit handen van Miss EemsmondSport Jo-Anne Bosk. Op de derde plaats eindigde Turnvereniging VIOS uit Warffum, vierde werd het Menteam Lamein, eveneens uit Warffum en korfbalclub DWA/Argo uit Winsum en Bedum kreeg het bij de vijfde plaats behorende certificaat.
---
Het is er net weer voor 🍃🍂🍁, want het komt zo af en toe met bakken uit de hemel…..een paraplu! Wat is er nou mooier dan in de regen lopen onder je eigen enige echte originele Fivelcrossers paraplu?
Dit mooie stukje vernuft is vanaf heden verkrijgbaar in de kantine.
Groot genoeg voor 2 personen en windbestendig want hij kan niet door knikken.
De prijs is € 15,- en daarmee ben je niet alleen lekker droog tijdens een regenbui, maar zit je ook onder beschermt tegen de felle zomerzon én je steunt de club ook nog eens na aanschaf. Alleen maar voordelen dus!
Haal er dus eentje zolang de voorraad strekt….it's amazing!!
---
Speciaal voor de nieuwelingen onder ons een korte beknopte uitleg over het verloop van een BMX wedstrijd. Tevens een uitleg over de NFF regiowedstrijd, Noordcup en Herfstbokalen. In de pdf's kun je lezen hoe die zoal in hun werk gaan.
Ik kan dit nog toelichten als dat gewenst is. Tijdens wedstrijden is er altijd hulp in de buurt als het even niet duidelijk is.
vriendelijke groet,
Stef Akkerman
Of onze trainingen doorgaan, check het stoplicht of volg ons op Facebook
Vragen, stel ze aan ons!